Location and Date:
TRIATHLON: Saturday, August 7, 2021:
8:00am start for Olympic Triathlon.
8:30am start for Sprint Triathlon
Lakeview Ministries: 13500 W. Lake Rd., Seymour, IN 47274.
Located just southwest of Columbus, IN, approximately 12 minutes from Exit 64 of Interstate 65. Sign-In will be at the Camp Lakeview waterfront on Lutheran Lake. Enter the parking area through the Camp Lakeview entrance.
5K, Kid's Fun Run & Community Day Cookout: Labor Day, September 6, 2021
9:00am start for 5K
10:00am start for Kid's Fun Run
Race and Course Information:
Sprint Triathlon:
The Sprint triathlon will consist of an 800 meter open water swim, out and back on Lutheran Lake, followed by a 12.6 mile out-and-back ride, on the roads of southern Bartholomew County, and finished with a 5 Kilometer run around the roads and trails of Camp Lakeview. Athletes must be at least 18 years of age by the day of the race, or have written guardian approval.
This race has few flat areas and contains many rolling hills, with a few steep grades spread throughout the route.
The Race Course:
Start with an 800m open water swim on Lutheran Lake. Bright swim caps will be required, and provided in the race packet you receive on race day.
The bike route will have several short steep climbs with a couple longer climbs. After a counter clockwise lap around Lutheran Lake, the route heads east on W Lake Rd. towards Waymansville. From there, riders will go right on SR 58 for a few hundred yards, before turning left on Seymour Rd. The route continues on Seymour Rd. until the turnaround at St. Paul Lutheran Church. Bike helmets must be worn and buckled at all times. You must provide your own water bottles for the bike portion. There will be a SAG station located at the turnaround point.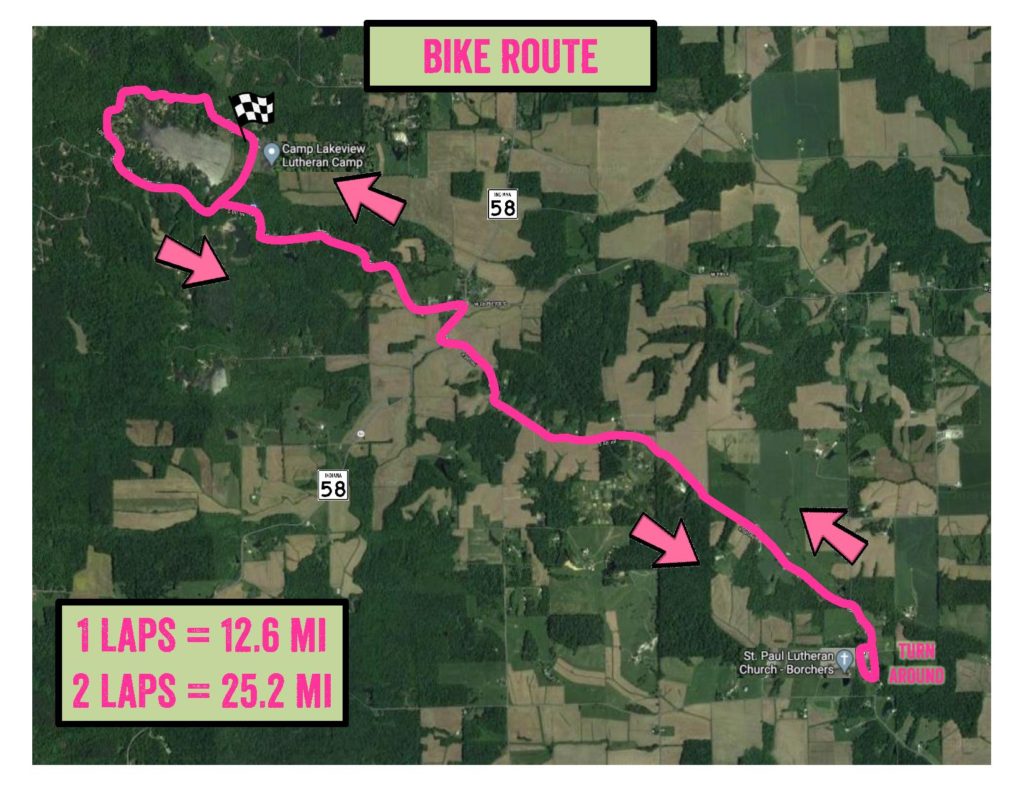 The Run route is on roads and trails of Camp Lakeview. There will be two water stations on the 5K course.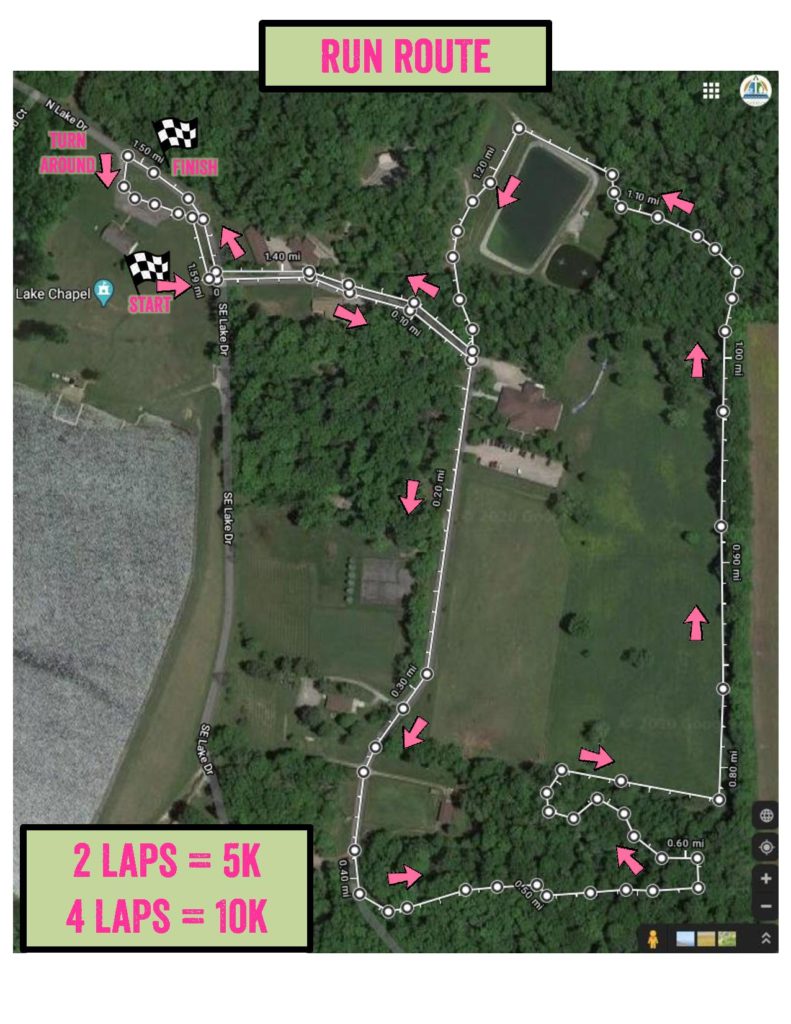 Olympic Triathlon:
The Olympic TriathlonDOUBLES all lengths of the Sprint triathlon. The race will consist of a 1600 meter open water swim,2 laps out and back on Lutheran Lake, followed by a 25.2 mile ride, 2 laps of the bike route, and finished with a 10 Kilometer run, 2 laps of the run route around the roads of Lutheran Lake. Athletes must be at least 18 years of age by the day of the race, or have written guardian approval.
5K Run/Walk:
The 5K Run/Walk will start at 9:00am and will use the same course as the 5K leg of the triathlon. Athletes must be at least 11 years old by the day of the race.
Pricing Information:
Individual Sprint Triathlon: $60 before July 4th, $70 after
Individual Olympic Triathlon: $70 before July 4th, $80 after
Team Sprint Triathlon: $110 before July 4th, $120 after
Team Olympic Triathlon: $120 before July 4th, $130 after
The team triathlon will consist of teams of 2 or 3 athletes. Only overall awards will be presented. Teams can consist of both males and females, of any age over 18.
5K Run/Walk: $25 before August 1st, $30 after
Children's Fun-Run: ($10 before and after August 1st)
The Fun Run will start at 10:00 am on race day (September 7th) and will be limited to those who are 10 and under. There are two categories to sign up for, a short run and a long run. The short run is for those 6 years of age and under, and will consist of a short 100 meter long course. The long run is for those 6 to 10 years of age, and will consist of a longer course approximately 400 meters. This event will take place next to the Lake Chapel on top of the hill. All participants will receive an award for running in the Fun Runs.
Other Information:
Awards:
There are five individual age group award categories for both male and female athletes:
— 18-19 yrs. — 20-29 yrs. — 30-39 yrs. — 40-49 yrs. — 50+ yrs.
The Medals and Awards Ceremony for the Sprint Triathlon will be held at 10:30am.
The 5K will have five age group award categories for both male and female athletes:
— 11-19 yrs. — 20-29 yrs. — 30-39 yrs. — 40-49 yrs. — 50+ yrs.
The Medals and Awards Ceremony for the 5K will be held at 11:00am.
General Registration Policies: (All Registrations will be conducted through our Online System)
Early registrations, are eligible for the discounted rate. Any registration after the cutoff dates will be charged full price. Registrations received after July 24th may not receive all items in their Race Packet. Space is limited, please get your registrations in as early as possible to insure your spot in the race. Registration entries can not be delayed to a subsequent year. Once registered, no refunds are permitted for any of the events.
Special Note — Team Registration Requirements:
Whichever individual signs the team up through our registration software will be considered the team captain. This captain will be responsible for supplying all paperwork and payments to Lakeview Ministries. This captain will be responsible for all communications between Lakeview Ministries and their team members.
Packet Pickup:
Triathlon Race Packets may be picked up at the Lutheran Lake Chapel on Friday, August 6th from 6-8 PM and Saturday August 7th from 6:30-7:30 AM. Arrive early to make sure you have enough time to prepare yourself for the race. All adults most show a PHOTO ID. All minors must be accompanied by a parent or legal guardian.
After Race Food, Refreshments, and Entertainment:
Triathlon Day: August 7th
All participants will receive a post-race bag of prepackaged snacks and drinks.
5k / Fun Run Day: September 6th
BBQ pork, hot dogs, baked beans, macaroni and cheese, fruit, vegetables, and other food for the post race community day will be available starting at 11:00 AM. We will collect a free will offering during this meal to help defray the cost of the food. During this time we will also have activities to participate in for entertainment, such as bounce houses, water slides, carnival games, etc. Bring the whole family and enjoy some great time at camp!
Pre-Race Practice Sessions:
The bike and run routes will be available to practice on. Please contact the camp office if you would like to come practice the routes. The swimming route will not be open to practice on, only to view.
We will also host a Pre-Race Clinic the night before the race at the same time race packets are available from 6-8 PM at the Lutheran Lake Chapell. We will have a walk-through of the race map and answer any questions that are brought up.
Insurance Coverage:
Your personal insurance will be the primary carrier. USAT, as part of your entry fee, will carry a supplemental single day insurance plan for all participants.
Event Cancellation Policy:
If natural disaster, foul weather or community disaster occurs, our action steps are as follows: 1. Lakeview Ministries in concert with local officials will make decisions based on safety first. 2. Courses and/or race segments will be altered as agreed to between Lakeview Ministries and local officials. 3. Financial: It is not financially feasible for Lakeview Ministries to accept the risk of a disaster for everyone. Each registered participant needs to accept the risk of his or her entry fee. There will be NO REFUNDS or free entries to future races. The money paid for entry was spent developing the event. 4. Lakeview Ministries does not save any money if the event is canceled for reasons beyond our control. All supplies and services needed for the event are purchased and/or arranged in advance. All event supplies and services associated with the event must be paid for, regardless if the event is canceled or not. Entries are NOT delayable or exchangeable. Lakeview Ministries is a 501c-3 organization and all proceeds from this event are considered a donation to Lakeview Ministries and are therefore tax deductible.
Race Safety Notice:
We reserve the right to remove any athlete from the race if we feel that your safety, or the safety of others, is at risk if you continue. We will not allow you to make this an unsafe race for yourself and/or other participants. We will have safety personal stationed in multiple locations throughout the entire course. They will be wearing bright shirts and will be able to answer questions or assist in fulfilling needs you may have.
Race Evaluations are Appreciated:
Participants are encouraged to complete the event evaluation form (located in the dining area of the Lutheran Lake Chapel) in order to help us improve this event for next year.
General Information:
Thank you for your interest in our 7th Annual Lakeview Ministries Triathlon. It is our hope that all athletes will be blessed by this event. All proceeds from this event will be put into our general fund to support the ministry of our camp. Your participation is a blessing to us!
Questions? Contact Our Office:
Phone: 812-342-4815
Email: office@lakeviewministries.com