---
On May 27th, we made the decision to CANCEL our normal summer camp programs due to the COVID-19 pandemic. We are currently planning alternative summer program opportunities for you and your children to come out to camp this summer. At this time we envision being able to offer General Family Camping and Youth Day Camps throughout the month of July. We will be posting details of these alternative program opportunities in the next week or so.
---
Camp Family,
With our eyes held steadfast on our Lord and Savior, we look forward to the day when we can meet face to face once again. We want to be as open as possible with you about what's been happening at camp and how we're preparing for this summer and the future. It's important you know the challenges we're facing but also the hope we're holding onto.
The following is our plan regarding Summer 2020. This plan includes:
TIMELINE: A timeline for "Go/No Go" decisions for each camp session.
CHECKPOINTS: The checkpoints we must reach in order to be able to hold summer camp programs.
CANCELLATION OPTIONS: Your options if a camp session is canceled.
FINANCIAL REALITIES: The financial realities camp currently faces and how you can help.
STAY INFORMED: How we will communicate with you moving forward.
Plan updated May 1st, 2020.
---
Decision Timeline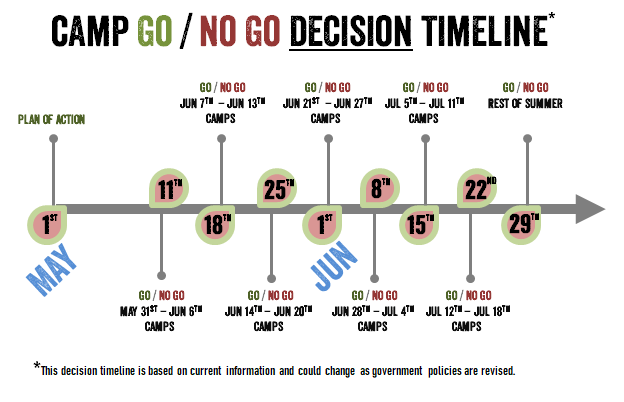 We will announce 3 weeks prior to the start of each camp session whether it is a "Go" or a "No Go". This gives us the greatest flexibility in responding to changing information and circumstances while still allowing some time to train our staff and make final camp preparations.
| Date | "Go/No Go" decision made for: | Decision |
| --- | --- | --- |
| May 11 | Classic 1 · Village A · Tiny Tykes A | CANCELLED |
| May 18 | Classic 2 · Village B · Mother Daughter | CANCELLED |
| May 27 | Classic 3 · Night Owl · Tiny Tykes B | CANCELLED |
| May 27 | Explorer 1 & 2 · Village C · Alumni Reunion | CANCELLED |
| May 27 | Classic 4 · Senior High | CANCELLED |
| May 27 | Classic 5 · Village D · Tiny Tykes C | CANCELLED |
| May 27 | Classic 6 · Village E · Father Son | CANCELLED |
| May 27 | Classic 7 · Village F · Tiny Tykes D | CANCELLED |
| May 27 | Classic 8 & 9 · Village G · Tiny Tykes E | CANCELLED |
| TBA | Family Fun Fest A & B · Women's Retreat | |
---
Checkpoints
There are 4 major checkpoints we must reach in order to run summer camp programs:
Checkpoint #1: Group Gathering Regulations
State regulations limiting the size and type of group gatherings must relax to the point of allowing large group gatherings and minimal social distancing.
Checkpoint #2: Operational Regulations
Additional state and local guidelines regarding camps must be such that we can safely comply without significantly compromising our ability to "do camp".
Checkpoint #3: Camper/Staff Care
We must be able to follow Health Department requirements in both the prevention of on-site infections as well as our quarantine procedures in the event of a suspected case of COVID-19.
Checkpoint #4: Camp Logistics
We must be confident in our ability to buy necessary supplies, plan required program changes, enact new procedures, have the support of our summer staff team, and have camp ready to "go" within a relatively short time frame.
For a more detailed description of each checkpoint, and to learn the steps we are taking towards each one, click below:
---
Cancelled Session Options
If at all possible, please wait until AFTER we have made an announcement about your camp session to cancel and/or request a refund.
If your session is cancelled, we will send you an email with a form to complete telling us how to process your registration payment. You will have the following options:
Switch Sessions-move your registration to a later session in the summer.
Donate-donate your registration payment to support camp.
Refund and Donate-take a partial refund and make a partial donation of your registration payment.
Full Refund-receive a full refund of your registration payment.
In making this choice, we're asking for your help.
Summer program cancellations could be crippling to Lakeview Ministries and our ability to serve you and our camp family moving forward. If you have the ability to support camp by donating your full summer balance, please do so.
If your financial circumstances mean you need your registration fee refunded, we completely understand and will do so.
If your session is cancelled this summer, we want you back next summer.You will be allowed to sign up for a 2021 program early!
If we announce that your session is happening but you no longer feel comfortable sending your child to camp, please call our office (812-342-4815) and we will take care of you.
---
Financial Realities
Please be praying for Lakeview Ministries as we navigate the impact this pandemic is having on our ministry. We have already lost income from guest group cancellations this spring and are facing the possibility of losing income for all or part of the summer. We want to ensure camp is able to survive this current crisis, and arrives on the other side with the ability to continue to provide the programs and ministry people love.
Here are the financial realities of the situation:
Reality #1
Summer camp revenue makes up 65% of our annual income. This revenue sustains us throughout the year, not just during the summer months.
Reality #2
If we refund all of our summer camp registrations, we will be in a hole that will be very difficult to pull out of without significant changes to our ministry.

The very best thing you can do is to donate your full registration balance to camp if your program is cancelled.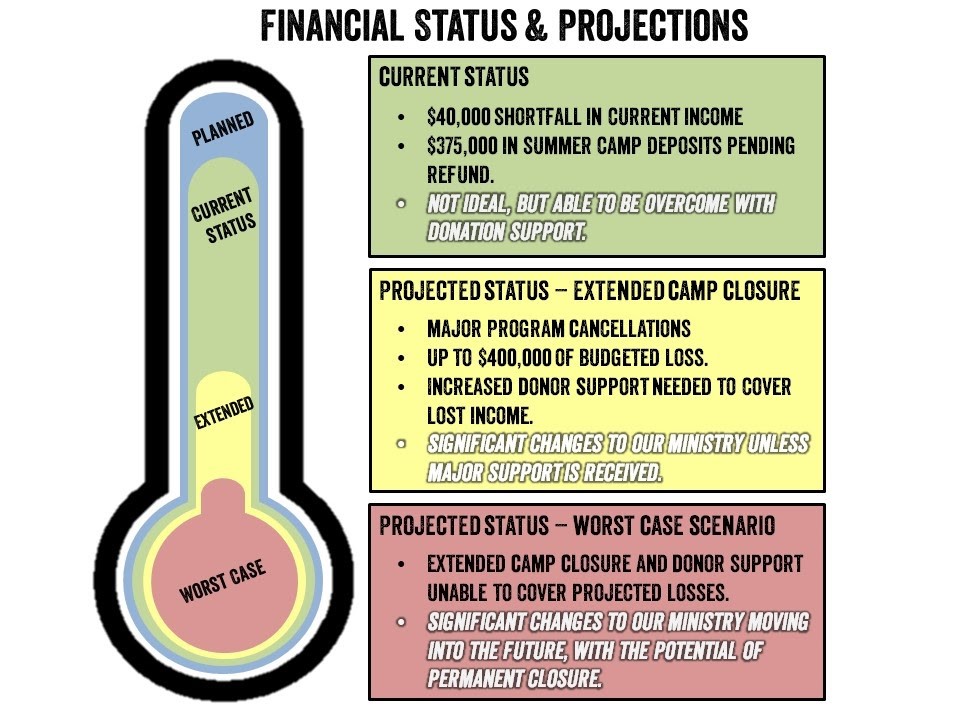 Reality #3
Our past actions have positioned us to weather storms, and we are currently doing everything we can to minimize expenses, but the potential impact of this pandemic could put us in a very precarious financial situation.
Reality #4
God has provided Lakeview Ministries with amazing support and a tremendous group of supporters over the years. We firmly believe that with continued action and strong support from our camp family we can weather this storm and continue to be a place for all to find opportunities of Christian growth, inspiration, and recreation for years to come.
Please give to camp in whatever way you are able. If you would like to learn more about our current financial situation, click below:
---
Stay Informed
Recognizing how quickly information and guidelines are changing, each Monday at 12:00 pm EST (beginning May 4th)we will post a short summary UPDATE to this plan.
These updates will be posted on our Camp & the COVID-19 Journey page and our Facebook page.
Included will be:
Decisions made in the previous week.
New information that has impacted the current plan.
Any other changes/updates.
Here are some other helpful links:
Camp & the COVID-19 Journey: Our main page for COVID-19 related news.
Lakeview TV: Every weekday, join us for some goofy, silly, good old-fashioned camp fun.
Camp-at-Home Family Survival Guide: Resources to use to engage your kids and encourage yourself.
Send a Tiggy-Gram: We'll record a personalized message to make someone you know smile, using everyone's favorite camp puppet monkey, Tiggy
Share a Prayer: Let us know how we can be praying for you!
---