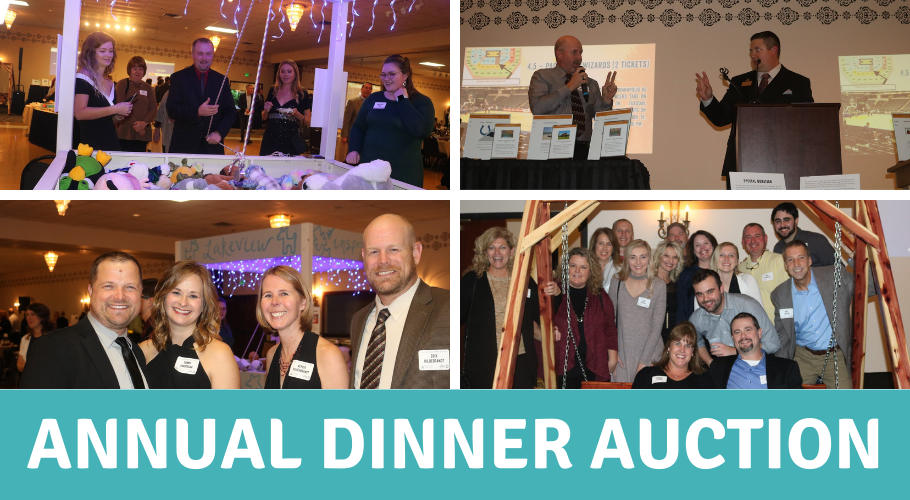 5:00-9:00 pm, Saturday, November 20th, 2021
Primo Banquet Hall, Indianapolis
$50 per person or $400 for a Table of 8
Purchase tickets or reserve a table HERE
---
What is the Dinner Auction?
The dinner auction is our single largest fundraiser for camp. Each year the Lakeview family comes together for an evening (or joins in virtually) to come together to support camp and the ministry that happens here. It's an evening filled with hearing the story of what God has done over the past year at camp, enjoying incredible food and fellowship, having fun bidding on auction items, and usually a few special surprises. Whether you're new to the Lakeview family or have been a part of it for years, we hope you will join us for an evening of celebrating, sharing, good fun, good fellowship, and coming together as a Lakeview family to support camp.
---
If I'm not able to attend the Dinner Auction can I still bid on items?
Absolutely! We love to have people support camp even if they are not able to attend the day of the auction. Online bidding will open up the week of the Dinner Auction on November 15th.
To bid on silent auction items online:
Register to create an account (or sign in if you already have an account).
Select the View Items button on the main page to see all the items available to bid on.
Place a Bid on any items you would like to bid on.
If you choose the Auto Bid option, you can place a maximum bid amount and GiveSmart will automatically increase your bid total up to that amount (similar to Ebay).
Place your final bids by 9:00 pm on Saturday, November 20th.
You will be notified via text if you are the winner of any silent auction items.
Items you have won may be picked up at the camp office. Otherwise, call our camp office to arrange drop off/pick up at another location.
---
Where can I purchase tickets?
You can purchase a ticket or reserve a table HERE. You can either purchase a single ticket for yourself, or, if you would like to come with a group of family and friends, you can reserve a table for a group of 8. If you reserve a table of 8 you will, of course, have complete control over who sits at your table. But even if you purchase a single ticket you will still be able to make requests for who sits at your table.
---
How can I donate an item for the Dinner Auction?
You can donate an item by going HERE. You will fill out a short information form about the item you would like to donate. We will get in touch with you and arrange when to pick up the item. All donations are tax-deductible!
What types of items are we looking for? A wide variety!
Tools
Antiques
Collectible Pieces
Baked Goods
Gift Certificates
Tickets
Handicrafts
Toys
Home Decor
Sporting Goods
Services
Kitchenware
And more!
---
I don't know how I feel about online bidding-do you have to know a lot about technology?
No! We use an online bidding service that is very simple to use and user-friendly. Plus, you can have one of our volunteers bid for you so you don't even have to mess with your phone!
---
What is the special donation item this year?
Our special auction item is Foundational Work on the Village Lodge + 2 Staff Houses.
Village Lodge
Sewer Connection Modifications ($15,000)
Fixing Concrete Settling Issues ($15,000)

Staff Houses
Foundation Repairs ($15,000)
Whether we are talking about the figurative roots and strength of an organization, or the literal structures that support a building, foundations are a critical component that can't be overlooked. Our organization's figurative foundations proved especially strong this past year: God's faithfulness saw us all through a difficult time, and you —our foundational supporters— kept Lakeview Ministries financially solid and steady.
Now, there are some literal foundations at camp that need our attention. This upcoming year marks the 10th anniversary of the
dedication of the Village Lodge. This building has been a tremendous blessing to our ministry and community. An incredible number of people have already come through its doors. But, as with any new building as it gets broken in, certain issues need to be addressed to allow the Village Lodge to continue functioning and flourishing for many years to come. This includes work to adjust the current main sewage line leading from the building, as well as repairs to the framework of the building as it has settled below its original foundation level.
If the Village Lodge goals are met, further donations will be applied to repairs for two of the staff houses owned by camp. Both houses contain block foundations that are in need of repair. This is critical in providing comfortable and reliable residences for our full time program directors.
Over the years, the special item donation at the dinner auction has raised hundreds of thousands of dollars to complete projects and purchase items that fall outside of normal budgeted expenses. Your previous special item contributions have laid a foundation for camp to build on; this year we have the opportunity to repair the literal foundations of camp!
---
Where is the Dinner Auction held?
The Dinner Auction is held at the Primo Banquet Hall & Conference Center in Indianapolis, IN.
Primo Banquet Hall
2615 National Ave
Indianapolis, IN 46227
Click HERE for directions.
---
Questions? Have an item to donate to the auction? Call our office at 812-342-4815 or use the form below to contact us: