Whether you have been coming to camp for years or are considering it for the first time, we're glad you're here. For over 50 years Lakeview Ministries has been focused on providing incredible faith-filled experiences for kids of all ages and maintaining the highest standards for the safety and well being of every person who comes to camp. We can't wait to welcome you to camp!
Registration Opens February 1st!
---
SAFETY PLAN I PROGRAMS I CHANGES I REGISTRATION INFO I PARENT HEADQUARTERS I SUMMER SCHEDULE
---
Safety Plan
MAY UPDATE:
The majority of our policies and plans for the summer remain unchanged. Here are a few updates leading into the summer:
COVID-19 Community Levels. We are using this CDC tool throughout the summer to be able to respond to changing conditions. The level leading into your session of camp will determine whether we implement any stricter COVID policies such as indoor mask use and no large group gatherings.

Campers are currently NOT required to wear masks.

Campers should still bring a few face masks with them

in case circumstances change during their session. If you wish for your camper to wear a mask during their camp week, simply mention it to their counselor during check-in.

COVID-19 rapid tests will be available for use onsite. If your camper develops COVID-19 symptoms while at camp you will be contacted about this option. In certain situations we may require you to come and pick up your camper regardless of the outcome of the rapid test.

Campers who have been exposed to COVID-19 but ARE vaccinated and showing no symptoms will have the option to remain at camp. This option may be removed if there are not enough campers or staff in a cabin to continue.

Large group gatherings allowed. Outdoor large group gatherings of the entire camp will be held largely as normal. If gathering indoors for an extended period of time (due to stormy weather or otherwise) measures will be taken to minimize the risk of exposure.
ORIGINAL SAFETY PLAN:
We are committed to being open and transparent with you as we head towards the summer. Further details on this Safety Plan will be included in the Information Packet provided after you register for a program (accessed HERE) and a final version of this plan will be released in May.
Our plan for this summer carries over a number of strategies that were used last summer. These include:
Health Screening upon arrival
Outside whenever possible
Minimized large group gatherings
In addition, all campers and staff are strongly encouraged to receive a COVID-19 vaccination/booster prior to attending camp. This is based on the recommendation of the CDC and the assumed risk of gathering together when attending camp.
If the advisory level for our area (found HERE) is above a certain threshold prior to the start of a program, we may implement additional safety strategies. These additional strategies are still being finalized but may include such things as:
Negative COVID-19 test required upon arrival
Masks indoors
Separate cohorts
Regardless of adjustments we make to help keep everyone healthy, campers will still get to experience camp as it was meant to be, filled with incredible community, outstanding staff, ridiculously fun activities, and intentional faith building. Last summer we were able to provide an incredible experience to over 1900 campers and we look forward to doing the same again this year!
---
Programs
We offer youth camp programs and weekend family retreats at two adjacent sites: Camp Lakeview and Lakeview Villages. Don't worry about sending campers to both sites-they're right across the road from each other. Camp Lakeview is for our younger campers (grades 1-6) and Lakeview Villages is for our older campers (grades 6-12). Both sites offer the same great camp experience specifically tailored to the age of the campers.
We also offer weekend programs for families at both sites.
---
Sunday-Friday overnight sessions for campers in 1st-6th grade.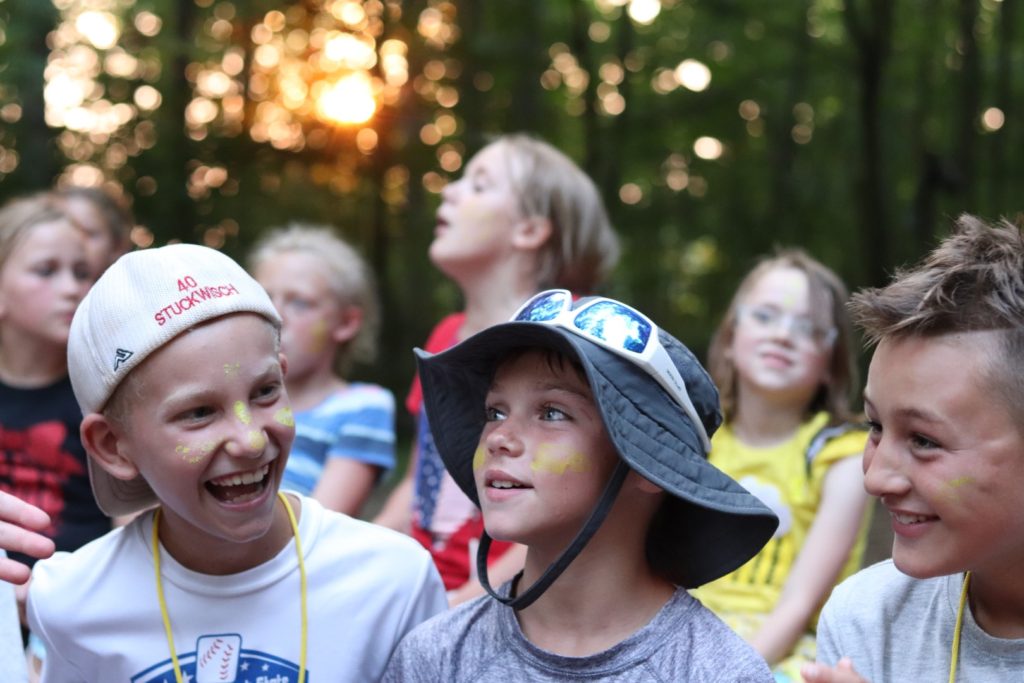 Sunday-Friday overnight sessions for campers in 6th-12th grade.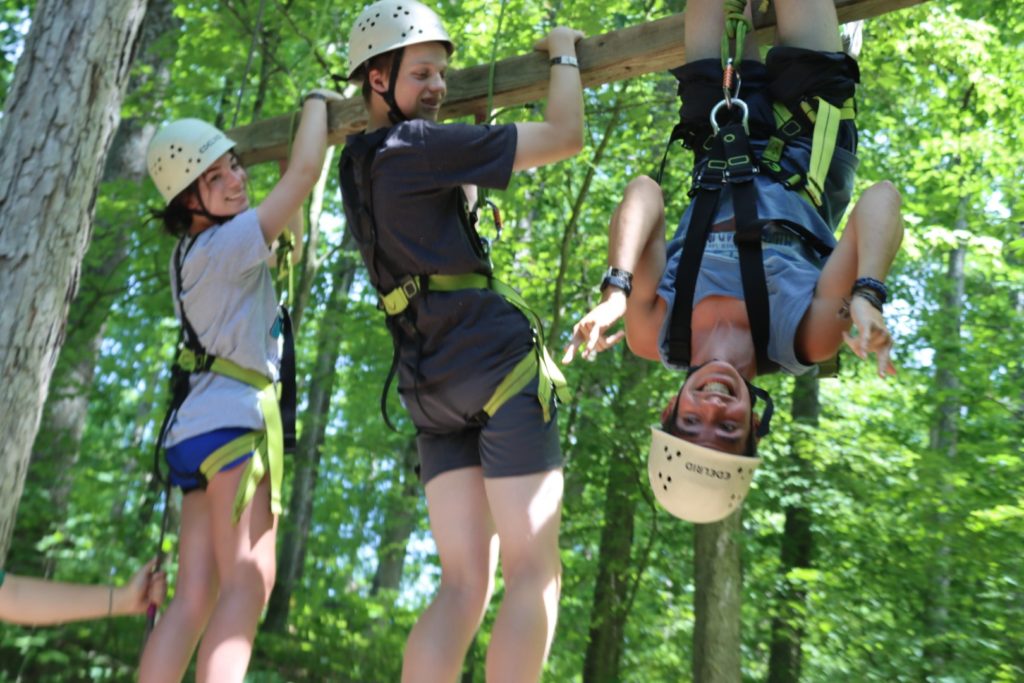 Weekend Adult/Child and Family retreats for all ages.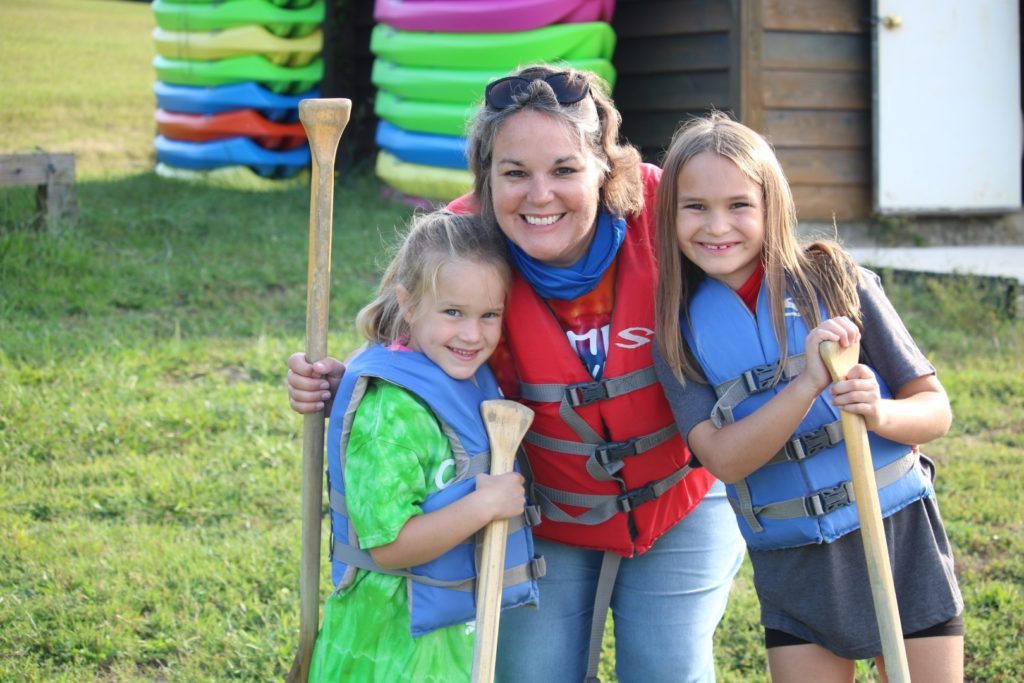 ---
Changes for Summer 2022
Our weekend Adult/Child programs are returning to overnight Saturday-Sunday retreats.
We are adding a new family program, Family Days, an opportunity to bring your ENTIRE family out to the Villages for a Saturday of camp fun.
Camp Lakeview is returning to a full capacity of 120 campers per session.
---
Registration Info
Registration will open for all summer programs on Tuesday, February 1st at 9:00 am EST. To register, click the big blue "Register / Log In" button on our homepage. Typically, most camp programs still have spots available after the first day of registration, so don't worry if you aren't able to register right away.
Before registering, please read through our Important Registration Policies which contain very important information for you to know about Registration, Deposits, Refunds, Roommate Requests, Waiting List, Financial Aid, etc. Also check out our Registration Tips to be all set to register like a pro on February 1st!
---

---
Summer Schedule
Check out our complete summer program schedule below. You can find descriptions of all our programs in our BROCHURE.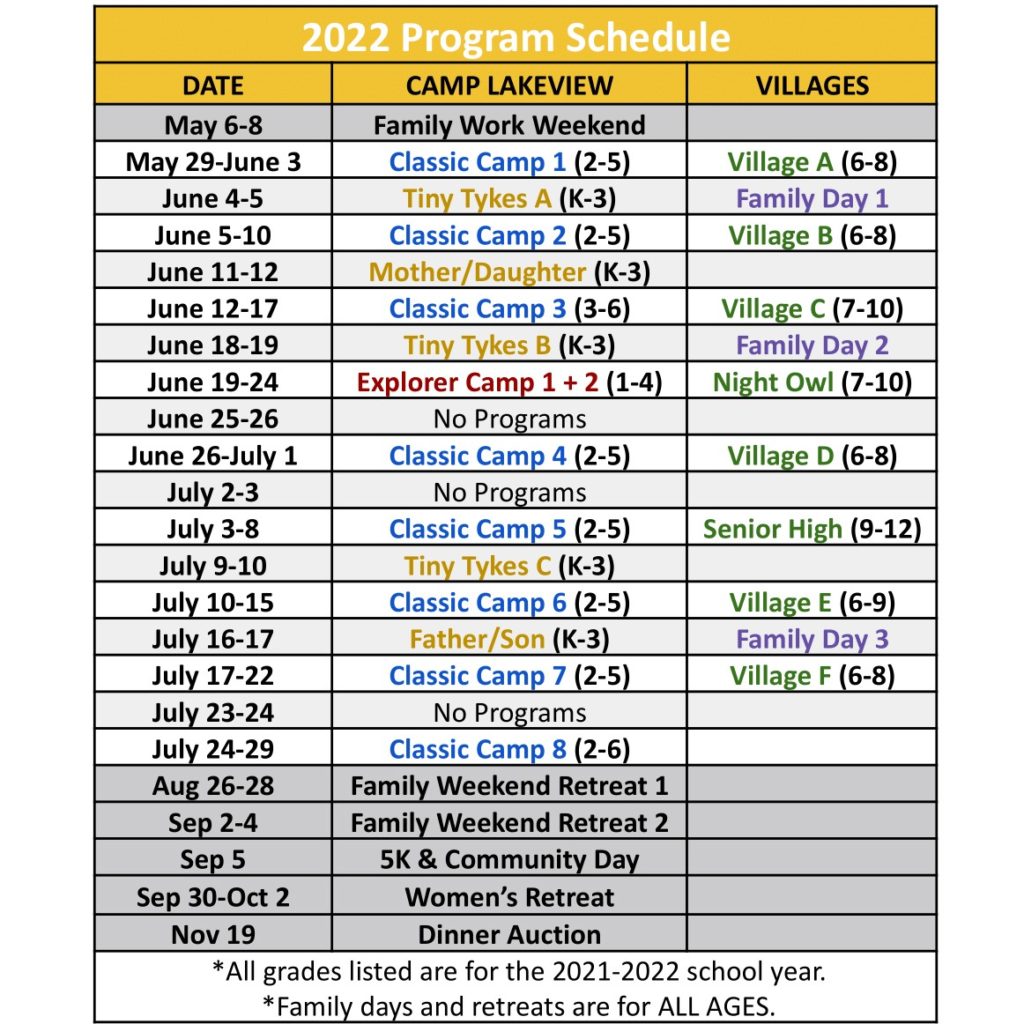 ---
Follow us on Facebook, Instagram, and YouTube for a daily dose of camp faith and fun and stay connected by signing up to receive our E-NEWSLETTER and other camp news (1-3 emails a month).