Whether you have been coming to camp for years or are considering it for the first time, we're glad you're here. We recognize that for many people, the future feels uncertain right now. But we know how much kids and families need the connection and encouragement of camp. We have a path forward and a plan in place to run our summer programs and are committed to a great experience in a safe environment for each camper.
How We're Preparing for this Summer
Throughout its history, Lakeview Ministries has remained focused on providing incredible faith-filled experiences for kids of all ages and maintaining the highest standards for the safety and well being of every person who comes to camp. And so, although we're hopeful the pandemic landscape will be greatly improved by this upcoming summer, we're preparing as if conditions will remain largely the same as they were last summer.
Read on for more information about the Safety Plan we've put together for Summer 2021. Or check out the awesome Programs we have happening this summer. And remember:
Registration Opens February 8th!
---
SAFETY PLAN I PROGRAMS I CHANGES I REGISTRATION INFO I PARENT HEADQUARTERS I SUMMER SCHEDULE
---
Safety Plan
We are committed to being open and transparent with you as we head towards the summer. If things improve, it's very likely we will be able to curtail or even eliminate some of these policies. But no matter what happens, camp is still going to be camp!
Our plan for the summer uses a number of different actions to reduce risk. Layering these actions together works to create as safe an environment as possible. Our plan emphasizes remaining outdoors whenever possible, keeping campers in small groups, and avoiding activities and settings where different small groups mix together. For campers, camp will happen largely as normal-Lakeview Ministries has always emphasized time outside and small group community and this summer will be no different.
Here are some of the actions we plan to take to safeguard the health and well-being of our campers during their time at camp:

---
Programs
We offer summer camp at two different sites, Camp Lakeview and Lakeview Villages. Don't worry about sending campers to both sites-they're right across the road from each other. Camp Lakeview is for our younger campers (grades 1-6) and Lakeview Villages is for our older campers (grades 6-12). Both sites offer the same great camp experience, specifically tailored to the camper's ages. We also offer weekend program options for Families at both sites.
6-day and 3-day overnight sessions for campers in 1st-6th grade.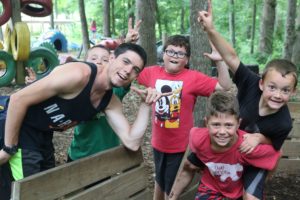 6-day overnight sessions for campers in 6th-12th grade.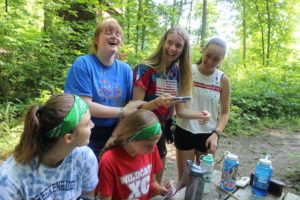 Single day parent/child sessions for campers in K-3rd grade. All-ages family retreats.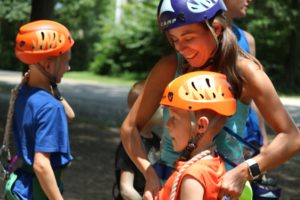 ---
Changes
Our weekend Parent/Child programs will be Saturday-only retreats this year to account for additional cleaning requirements between different sessions of camp.
Our Camp Lakeview programs will be set at a reduced capacity of 100 campers per session. This capacity may be increased if conditions improve before the start of the summer.
---
Registration Info
Registration will open for all summer programs on Monday, February 8th at 9:00 am EST*. To register, click on the big blue "Register for Camp" button on our homepage. Typically some camp sessions fill on the very first day of registration, so register as early as you are able!
Before registering, please read through our Important Camp Policies form which contains very important information for you to know about Deposits, Refunds, Roommate Requests, Waiting List, etc.
*Important Information for Last Year's Campers:
Campers who had a session cancelled in Summer 2020 will be able to register one week early beginning Feb 1st. We will send you an email by January 15th outlining how to register early. If you do not receive this email, please call our office at 812-342-4815 BEFORE Feb 1st.
---

---
Summer Schedule
*All grade levels are based on the 2020-2021 school year. For the well being of the program, campers, and staff, we do not make exceptions for camper grade.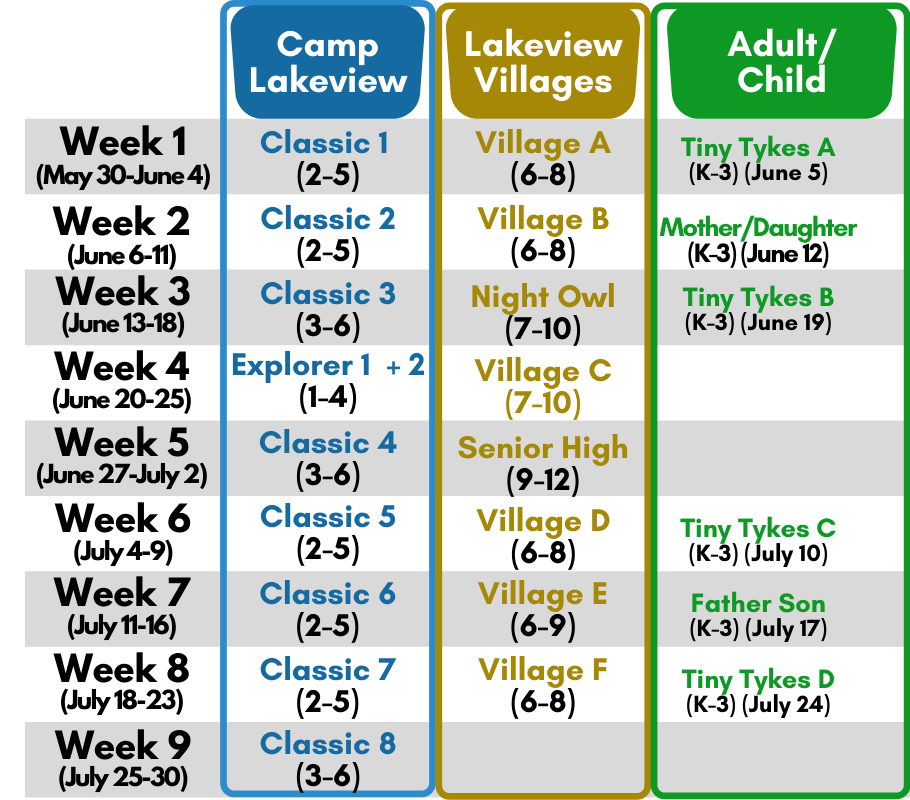 ---
Like us on Facebook for camp updates, fun pictures, and more!
Sign up for our monthly e-newsletter to be the first to hear what is happening at camp.