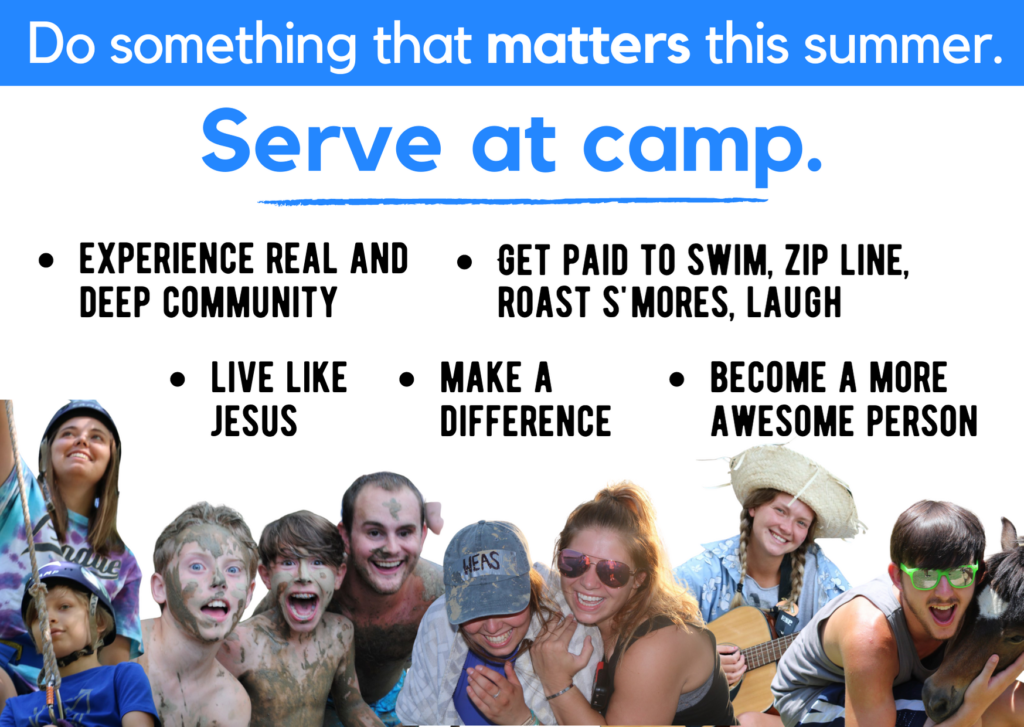 ---
We are planning and preparing to be able to run our normal summer programs in in Summer 2021. If you have specific questions or considerations, use the form at the bottom to reach out to us. As part of the application process, we will keep you informed about specific expectations and policies for the summer related to COVID-19.
We still have openings for:

-Assistant Cook
-Assistant Maintenance
-Adventure Specialist
---
How do I apply?
To apply, all you have to do is:
Go HERE to fill out your Summer Service Profile.
Wait to be contacted by your first choice camp to set up an interview (if you are not contacted within 2 weeks, please reach out to us).
The initial deadline for applications is February 12th. While we may still continue to accept applicants after this date, we make the majority of our hiring decisions in February.
The earlier you apply, the better. The later in the year we receive your application, the more likely it is that we will have already finalized our hiring decisions for the summer.
That's it. Pretty simple. If you have questions about it, email us using the form at the bottom of this page.
---
Why do I have to apply through the NLOMA website?
At Lakeview Ministries, we are a partner camp of the National Lutheran Outdoors Ministry Association (NLOMA). This organization is made up of more than 25 LCMS camp across the country. We share a common application with the other NLOMA camps. This means that when you apply to work at Lakeview Ministries, your application will also be seen by the other NLOMA camps. Don't worry, we get first dibs, but if you don't wind up working here, you have the opportunity to work at many other places across the country!
You can explore the many different camps that make up NLOMA by going HERE. Who knows? God may be calling you to a new place this summer!
---
What kind of people are you looking for?
We want people who love Jesus, love kids, and are willing to put their faith into action to serve in outdoor ministry. Also, you need to be at least a year out of high school. If you haven't ever attended camp at Lakeview Ministries or aren't a huge outdoor expert, don't worry! Each summer we hire people who are brand new to camp.
---
What positions do you offer?
At Lakeview Ministries, we hire 45+ summer staff. The following positions are available each summer. On your Summer Service Profile you will be able to list your top three position choices, as well as any other positions you may be interested in. We may ask you about serving in a position you did not put as one of your top choices. Positions offered are:
Camp Lakeview:
Lakeview Villages:
---
Summer Schedule and Salary
May 13-Assistant Program and Junior Staff Coordinators arrive
May 17-20-Support Staff arrive
May 21-Counselors arrive
May 30-First day of camp!
June 25-27-Staff Unity Weekend-all staff required to be ON
July 24-Village Staff depart camp
July 31-Camp Lakeview Staff depart camp
All staff are paid at least $300 per week plus room and board.
---
Work and Time Off
You will work very hard if selected to a part of the Lakeview Ministries staff team. Staff work from early in the morning to late in the evening, with very little personal time. Counselors spend nearly every hour of the day with their campers, while Support Staff have grueling and unglamorous duties to fulfill each day.
All staff will receive an average of one day off per week. In general, you can expect to work around half the weekends throughout the summer (including staff training and staff unity) and have the rest of the weekends off. In addition, all staff receive one hour off each day.
Any additional time off requests are entirely dependent on the needs of the summer program. Hiring preference will go to staff who can work the entire summer.
All that being said, this is the hardest job you'll ever love. You'll get paid to do things like swim, zip line, dance around the campfire, roast s'mores, and talk to children about Jesus. You'll wake up every morning knowing you get a chance to make a difference in someone else's life. You'll become a part of the rich and deep legacy at Lakeview Ministries and gain a camp family that will last for the rest of your life. A summer at camp can change your life in a way that not many jobs can.
---
Don't delay. Even if you are not entirely sure about your summer plans, get the process started by submitting your application. If you have any questions or would like more information, call the camp office at 812-342-4815 or fill out the form below.