---
Saturday, October 3rd, 2020
Cost: $35 (includes morning snack, lunch, supper + all camp activities)
---
---
Due to COVID-19 considerations we have switched our normal weekend Women's Retreat to a SINGLE DAY retreat.
But at camp, there's no such thing as "just" a day…
Instead, your day is going to be marvelous and filled with meaning and joy. You'll get to experience…
Intentional JESUS time.
PEACE in God's creation.
GROWTH and NEW BEGINNINGS from a change in routine.
SO MUCH laughter and fun.
Whether you're young or old, have been coming to camp for years or have never been, ALL are welcome.
So give your spirit a boost. Do something different. Spend a DAY AWAY at camp.
---
Arrival and Departure
Check-in begins at 9:00 am Saturday morning. Coming from farther away? Don't worry-we'll have check-in available all morning and our first official activity doesn't start until 11:00 am! The day will end at 7:00 pm Saturday evening, but again, if you need to leave earlier, that's okay!
---
Amenities
Our retreat is limited to a maximum of 60 people. The vast majority of the day will be spent outside, unless going inside to use the restrooms or due to weather.
You'll have your own designated small group area on one of our porches, where you'll be able to relax and take a break in between exploring and enjoying camp. This area will be shaded from the sun and elements, have several picnic tables to sit at, and be located by restroom facilities . Each small group area will have no more than 10 people assigned to it, so you'll have plenty of room to spread out. You can request friends to be in your same small group area too!
---
Meals
Camp works up an appetite! Lunch and supper will be provided at the retreat. You will be able to take your meal "to go" and enjoy eating it at your small group area or anywhere else on camp. Our serving process allows guests to physically distance while waiting to receive food.
In addition to meals, we will also be providing a morning snack and a chance to order up some goodies at afternoon canteen. Yum yum we're having fun!
---
Spiritual Growth
In the morning and afternoon we will gather at our outdoor Amphitheater (lots of space to spread out!) for times of worship and spiritual growth. Lift your voice up in songs led by the camp staff and be encouraged and equipped as you listen and learn from our retreat speaker.
Our speaker is Alicia Hill from the ministry organization "Run Hard Rest Well". Alicia will help us explore what it looks like to run with a passion and rest with a purpose-especially in times like these.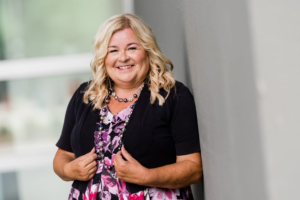 Here's a little bit about Alicia:
I was born and raised in Fort Wayne, IN and live in Ossian, IN with my husband of 40 years. A small rural town which is right in the cornfields of the Midwest. Mother of two grown married children and four adorable grandsons. I love God, Family and life and the thing which stands out the most about me…big spontaneous laughter. I graduated from Concordia Lutheran High School in Fort Wayne IN and attended Lutheran schools all my life. I am super excited to be a part of your day away with you. Pure Joy to be with all those in attendance!
Activities
The whole day is loosely structured to allow you opportunities for intentional times of spiritual growth, restful time in God's creation, and doing awesome camp things that will make you laugh and feel like a kid again.
Throughout the day you will have the opportunity to enjoy activities like:
Archery
Kayaking and Canoeing
Crafts
Fishing
Hiking
Mini Golf
Zip Lining
…and more!
You'll be able to do as much or as little as you like. If your ideal day away is spending the day hiking in the woods, or relaxing on the beach, or sitting in a lounge chair reading a book, then that's what we want you to do!
---
Safety Policies
The "Day Away" retreat is designed to allow you to spend the majority of the day outside and physically distanced from others. We'll do a quick health screen with participants as they arrive to make sure everyone is starting the day healthy. We'll have people wear masks indoors (such as when getting meals or using the restrooms) and for outdoor activities where physical distancing isn't possible (such as zip lining). Camp staff will also be sanitizing all shared group spaces throughout the day.
While the thought of such things at camp might seem a little strange, having already spent a summer hosting families and running programs with such requirements, we can assure you that the joy and fun of camp far outweigh any requirements. Camp is still camp, and every day this summer has been a blessing.
---
We can't wait to see you at camp!