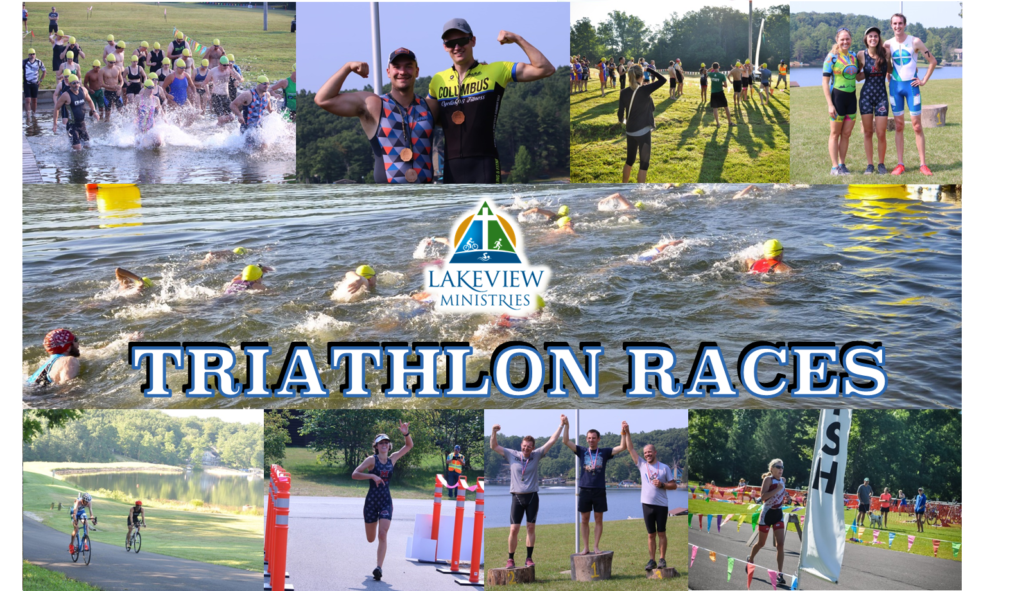 ---
Saturday, August 6, 2022 at 8 am
(Camp Lakeview in Seymour, IN)
Individual Sprint: $70
Individual Olympic: $80
Team Sprint: $120
Team Olympic: $130
Save $10 when you register by July 3rd.
Registration Deadline: Friday, August 5th at 8:00 pm
---
Registration will open by June 1st.
---
(Looking for info on the Labor Day 5k? Find it HERE.)
---
Swim, bike, and run around beautiful Lutheran Lake in Seymour, IN for the 8th annual Lakeview Triathlon. Compete individually or as a team on our Sprint or Olympic distance course. All participants receive a medal and custom SWAG with awards for overall winners + age group winners. Enjoy an exciting and challenging Triathlon in a beautiful setting and stick around to enjoy some post race snacks afterwards.
Great course. Great cause. Great community. Great fun. See you in August!
What We're All About I Schedule I SWAG + Awards I Course Description I Important Info I Past Results I Volunteer and Connect
---
What We're All About
Here at camp we love being a part of the community in our neck of the woods, so in 2015 we started holding a Triathlon and 5K each year to welcome people out to enjoy camp and the beautiful setting we live in.
Lakeview Ministries is a non-profit Christian camp that serves thousands of children and families each year. We love building relationships between people and families, providing encouragement for people to grow in their faith, and giving people lots of awesome time in God's creation. Any proceeds from this day go to support all these things.
Whether you're racing or simply checking out the sights, young or old, fast or slow, been coming to camp all your life or have never heard of us before, ALL are welcome to come to camp for a fun time in God's creation.
---
Triathlon Schedule
Friday, August 5th
6:00-8:00 pm


Saturday, August 6th
6:30-7:30 am
8:00 am
8:30 am

Early Packet Pick-Up (Lutheran Lake Chapel)
Walk-up race signups allowed. (NONE allowed Saturday morning.)
Pre Race Clinic and Course Talk Through (Lutheran Lake Chapel)

Check In and Packet Pickup (Lutheran Lake Chapel)
Olympic Triathlon Start
Sprint Triathlon Start
The main area for the race is at the Lake Chapel. This is where you will find Parking, Check In / Registration, Race Start and Finish, and Restrooms.
---
SWAG + Awards
All participants will receive custom SWAG. Check back closer to the date to see what the SWAG will be! Everyone will also receive a post-race bag of snacks and drinks. Everyone who finishes the race will also receive a sweet Finisher Medal. Wear it with pride-you conquered the hills!
Age Group winners will receive finisher medals with their place designated on the medal. The top overall male and female participant and top overall team in the Sprint and Olympic distances will receive a custom leather award and prize for winning.
Age Group Categories:
---
The Course
Swim
The swim for the Sprint distance consists of an 800m open water swim on Lutheran Lake. It will be an out and back with several large swim buoys providing the direction of the swim. The Olympic distance will swim this twice. Lifeguards patrolling in boats will be present during the swim. Bright swim caps will be required, and provided in the race packet you receive on race day.
Bike
The bike for the Sprint distance consists of a 12.6 miles out-and-back ride on paved country roads. The Olympic distance will bike this twice. The bike route will have several short steep climbs with a few longer climbs. After a counter clockwise lap around Lutheran Lake, the route heads east on W Lake Rd. towards Waymansville. From there, riders will go right on SR 58 for a few hundred yards, before turning left on Seymour Rd. The route continues on Seymour Rd. until the turnaround at St. Paul Lutheran Church. Bike helmets must be worn and buckled at all times. You must provide your own water bottles for the bike portion. There will be a SAG station located at the turnaround point.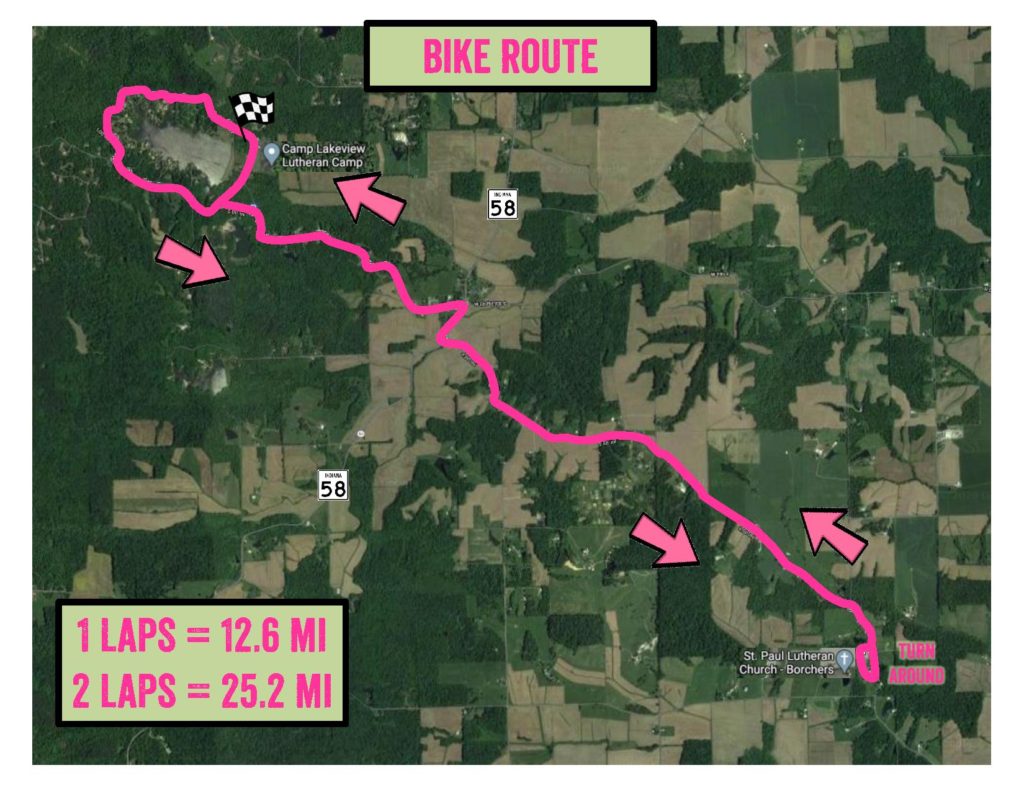 Run
The run for the Sprint distance consists of a 5K on paved roads around Lutheran Lake. The Olympic distance will run this route twice. There are hills almost constantly on this route, and several steep challenging hills. There will be two water stations on the 5K course.
Overall, this course is challenging, with few flat areas and many rolling hills, as well as a few very steep, long hills spread throughout the route. Make sure to check the elevation profile for the course and prepare for hills!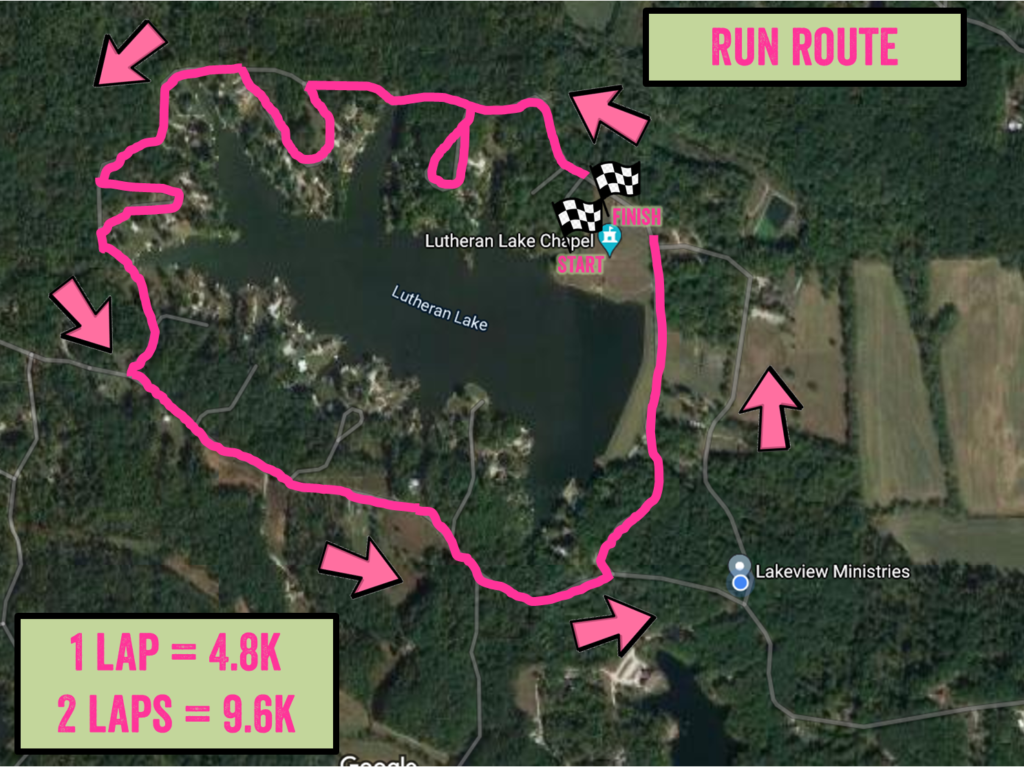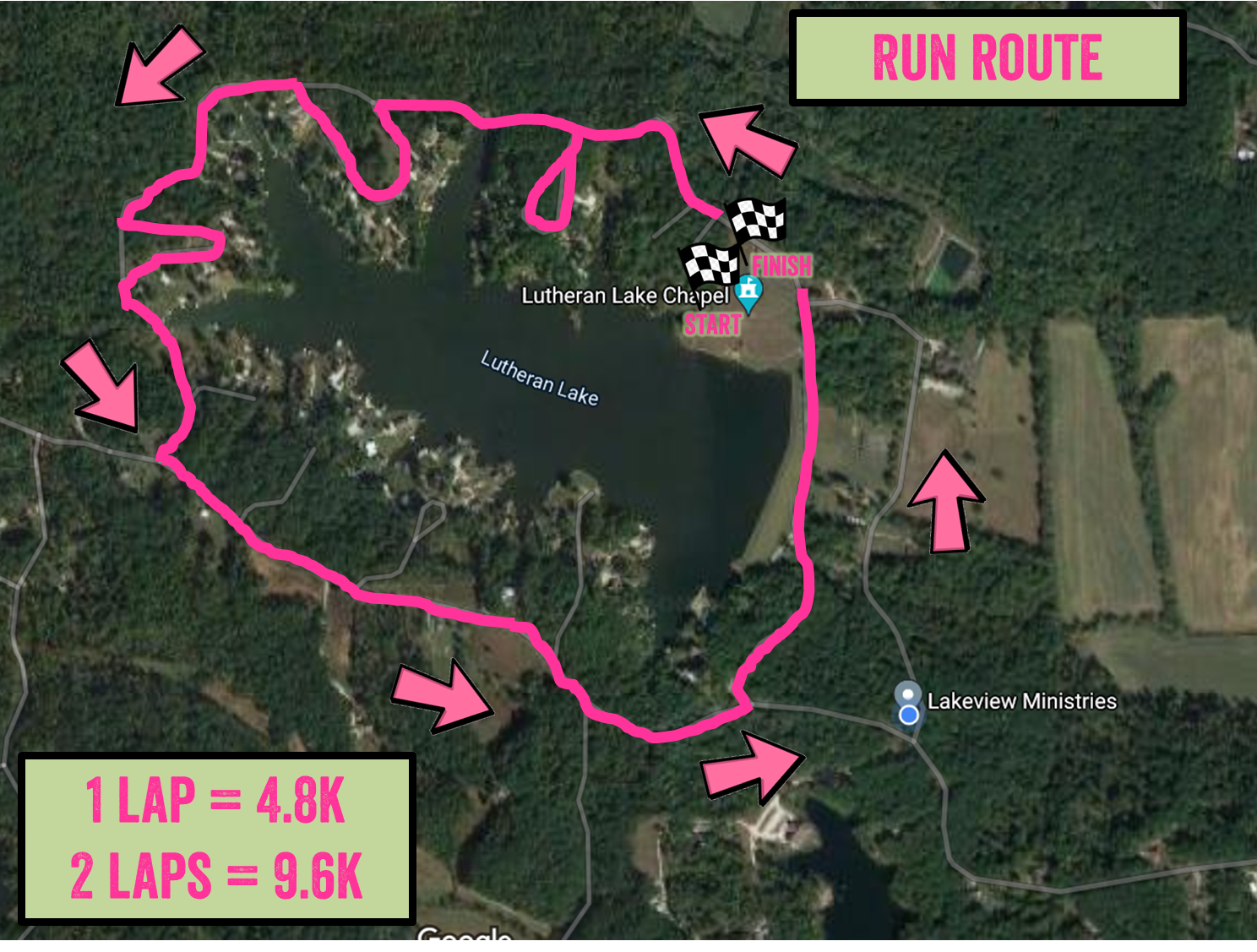 ---
---
Important Race Information
Photo ID Required
Please make sure to bring a Photo ID with you to pick up your race packet. All minors must be accompanied by a parent or legal guardian.
Competing as a Team
The team triathlon consists of teams of 2 or 3 athletes, and can be all male, all female, or mixed. Whichever individual signs the team up through our registration software is considered the team captain. The captain is responsible for supplying all paperwork and payments to Lakeview Ministries, and is responsible for all communications between Lakeview Ministries and their team members.
Registration Deadline
The deadline to sign up for the Lakeview Triathlon is Friday, August 5th at 8pm. Saturday morning signups will NOT be allowed.
Pre-Race Practice Sessions:
The bike and run routes will be available to practice on. Call the camp office (812-342-4815) if you would like to come practice the routes. The swimming route will not be open to practice on, only to view.
Event Cancellation Policy:
If natural disaster, foul weather or community disaster occurs resulting in the cancellation of the event, there will be NO REFUNDS or free entries for future races.
Race Safety Notice:
We reserve the right to remove any athlete from the race if we feel that your safety, or the safety of others, is at risk if you continue. We will not allow you to make this an unsafe race for yourself and/or other participants. We will have safety personal stationed in multiple locations throughout the entire course. They will be wearing bright shirts and will be able to answer questions or assist in fulfilling needs you may have.
---
Past Results
---
Volunteer and Connect
Every year we need volunteers to help direct people out on the course, set up and take down, and serve in a variety of other ways. If you are interested in volunteering, fill out the form below.
Have questions about the race? Let us know below!
Also: