---
Here at camp we have been hard at work planning and preparing for Summer 2021. We want it to be the best summer yet at Lakeview Ministries! One of the changes we are introducing is a new three-tiered pricing system that allows families to choose the price that best fits their financial situation.
Why the switch?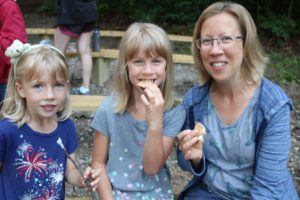 We believe in the immense value of a Christian camp experience for everyone, and want to keep camp affordable for as many people as possible while still providing a high-quality experience. In the past, we have charged flat rates for camp that were subsidized and did not reflect the full cost of our programs. This new system still provides the standard low cost option, while also presenting the actual costs of camp for those who can afford it.
The price you choose is entirely up to you. All campers receive the same high quality camp experience regardless of what tier they pay, and all families are free to choose the option that works best for them. Your selection is completely confidential.
At the same time, this change offers the opportunity for families to take an active role in supporting the true cost of a camp experience.
---
How does it work?
During registration, you will be able to select between each tier. Choose the tier that works best for your family:
Tier A (True Cost)
This tier most accurately reflects the true cost of operating camp including such things as maintaining the facilities, grounds, and equipment and providing new activities and experiences. By choosing this tier, you are helping support the ministry of camp for future generations.
Tier B (Partially Subsidized)
This tier covers basic program expenses, but is partially supported by donors to provide for the other costs that make up a camp experience. By choosing this tier, you are helping donations to summer camp go further in other needed areas.
Tier C (Subsidized)
This tier does not fully account for the cost of a camp experience. We want everyone to be able to come to camp, so we will keep this rate as low as possible. We can offer this tier thanks to donors who share our vision to keep camp affordable and accessible to as many families as possible.
---
Do you still offer Financial Aid?
Yes! The Camp Lakeview Foundation will continue to offer scholarships for as many people as they have funds available through our financial aid program. The application form for financial aid can be found HERE.
---
Are activity fees included in tiered pricing?
As part of our switch to tiered pricing, we are removing any additional activity fees that were once a part of the summer camp experience. Optional activities such as Horses or the Bike Trip are now INCLUDED as part of your registration. You will not have to pay anything extra for these activities, if your child chooses to participate in them.
---
What are your goals for tiered pricing?
Our goals for tiered pricing are simple:
To be able to offer the highest quality Christian camping experience possible.
To allow camp to be affordable to all.
To preserve camp for generations to come.
To provide an opportunity for partnership with those in a position to further impact camp's summer ministry.
---
If you have any further questions on this new pricing system, please call our office at 812-342-4815 and we'll be more than happy to talk. We hope you can join us for another amazing summer at Lakeview Ministries!